Last week, Bristol finally actioned their ambitious carbon neutral plan for the city and launched a search for organisations willing to invest in a joint venture to deliver a net zero energy system by 2030 (visit link).
As electric vehicles are expected to play a key role in decarbonising the city, Syzygy took a closer look at the EV market in the Bristol area and the future needs for EV charging infrastructure.
Bristol is already ahead of the UK market in terms of electric vehicles registration, with around 3,800 electric vehicles registered within 30 minutes drivetime of Bristol's city centre. In particular, the share of Pure electric vehicles (33.5%), which rely more on the public charging network than plug-in hybrids, is significantly higher than the UK average. Mirroring the rest of the country, in the first part of 2019, 55% of the electric vehicles sales for private customers in Bristol have been fully electric cars, with most popular cars Renault Zoe and Nissan Leaf.
Local area indicators also show that the EV adoption rate is likely to be high in the Bristol area. The share of households with two cars or more in Bristol area is 25% higher than the UK average and population is on average wealthier than the rest of the UK. This would indicate that residents are more likely to choose electric vehicles in the coming years.
Effective deployment of EV infrastructure will be key to ensure the city's successful transition. Syzygy's analysis of the charging market within 30 minutes' drivetime of Bristol, powered by the EVlab software, has found that the city offers lower charging speeds in comparison to the rest of the UK, indicating a greater need for rapid charging units.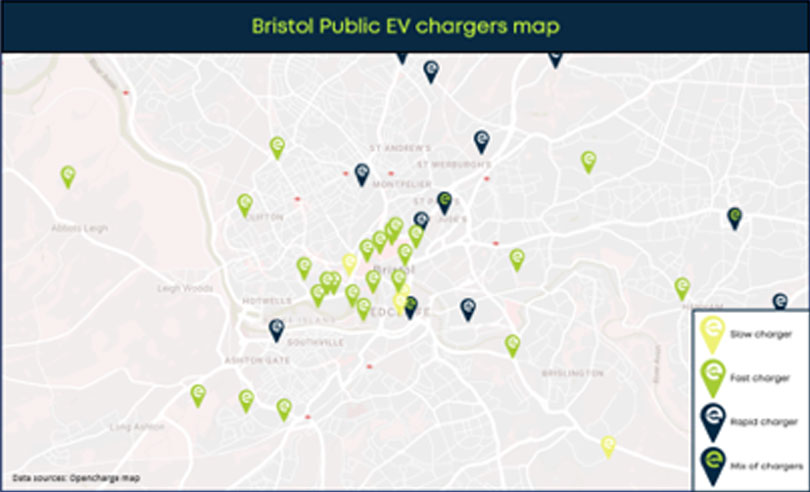 Although some public planning is needed to ensure open access to the EV charging network, local authorities will rely on offices and retail parks to deploy the necessary infrastructure, creating an opportunity for Landlords to lead the transition.
Since the announcement of the net zero goal in 2030, new charging installations have been announced across the city, including a ten-bay charging zone in Bristol airport and a new rapid charging hub in the centre of Bristol.
With more than 40 charging projects already delivered, Syzygy's independent advice has helped clients plan, design and deliver tailor made charging services to meet site demand and futureproofing needs. We are still in the early days of the EV transition, but Bristol is certainly showing signs of a market ripe for EV adoption. Bristol Landlords should be making their move.
Data sources used in this article:
2019 DVLA registration data
Openchargemap
Most recent government census data