As Birmingham prepares for the next big step in improving its air quality, Syzygy look at the local market data to assess how well prepared the city is for a switch to electric vehicles.
The Clean Air Zone (or CAZ) has been given the green light by Birmingham City Council following a Government lead enquiry on atmospheric levels of NO2. Designed to target heavily polluting vehicles, the zone aims to improve air quality by penalising vehicles entering the centre that do not meet the following criteria:
– Diesel – Euro 6 (VI) standard or better (most new registrations after 1 September 2015)
– Petrol – Euro 4 standard or better (most new registrations after 1 January 2006)
– Gas – Euro 6 (VI) standard or better
– Fully electric or hydrogen fuel cell – all are compliant and avoid CAZ charges
– Hybrid electric – the diesel/petrol engine must meet the relevant criteria above.
To assess how well-prepared Birmingham is for its CAZ, Syzygy has conducted an analysis of the local EV market data.
Our data shows that a great number of locals are dependent on their own vehicles – more so than the UK's average levels. This is owing to car ownership being 15% higher and 12% more people using their cars to drive to work.
With many people needing to turn to electric vehicles to keep them mobile, does Birmingham meet the needs of the EV driver?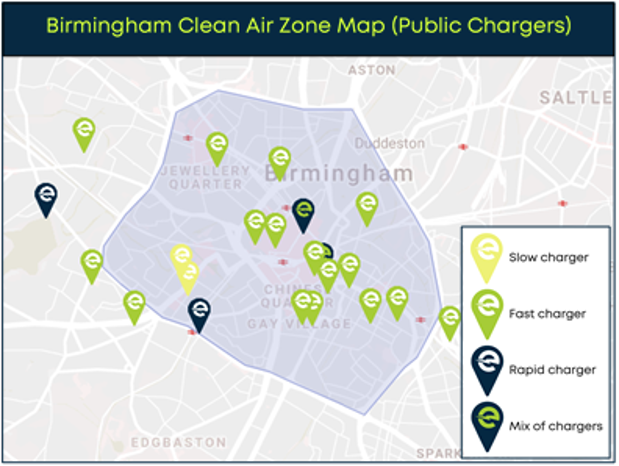 There are 11,000 plug-in electric vehicles registered within 30-minutes of the centre of Birmingham of which 30% are pure electric. Our analysis shows that there is a 50% undersupply compared with the UK's average requirements within a 30-minute radius of the centre of the CAZ. With a small number of charging stations located sparsely around the city and slower than average charging speeds, the lack of charging opportunities is hard to ignore. One noticeable instance is there are twice as many electric vehicles per charger compared with the UK average of 12 per charger. Combine that with an average charge speed of 11.2kW compared with the average delivery of 15.3kW that the UK is used to and it is imperative that key areas such as Birmingham are targeted to facilitate greater charging demands.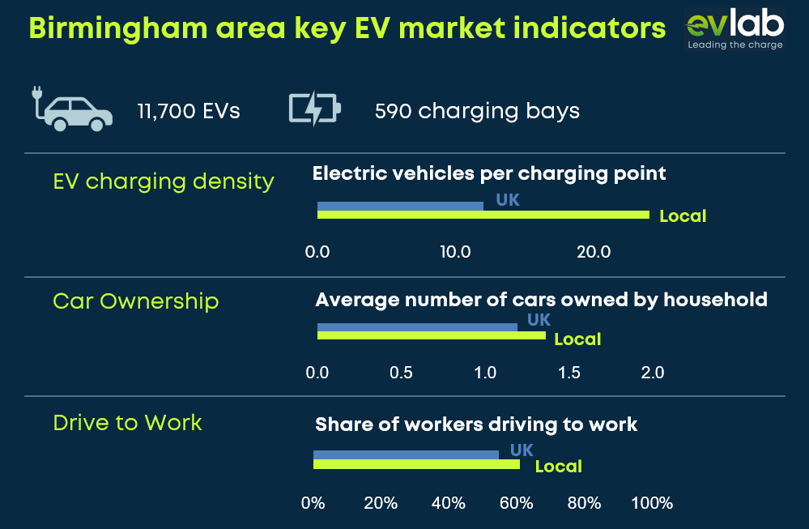 Given our analysis above, the short answer is that the city is currently not prepared. However, where there is an undersupply and growing demand, there is an opportunity!
Syzygy has experience in managing several well used electric vehicle charging projects, putting our knowledge of the property industry to great use. We understand the need for cleaner air quality without compromising the independence of Birmingham's residents as well as allowing landlords' investments to flourish. Landlords seeking to embrace the future of ecological investment, the time to incorporate change is now!